Brasil Guitar Duo
João Luiz & Douglas Lora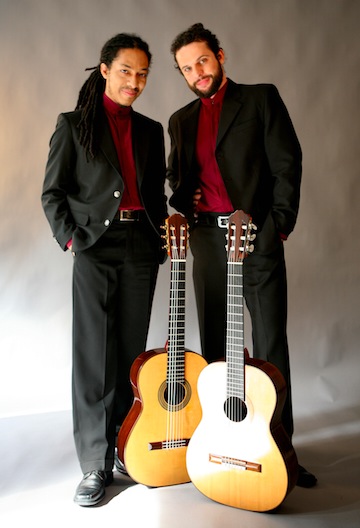 Classical Guitar Magazine exclaims: "The maturity of musicianship and technical virtuosity …is simply outstanding." in describing the Brasil Guitar Duo, winner of the 2006 Concert Artists Guild International Competition. Equally at home on a Classical or World Music series, the Duo's innovative programs feature a seamless blend of traditional and Brazilian works, resulting in a global tour schedule and numerous critically acclaimed recordings.
The Brasil Guitar Duo have performed for the Orange County Performing Arts Center, Lied Center of Kansas, Krannert Center for the Performing Arts, University of Chicago, Spivey Hall, Daytona Beach International Festival, Virginia Arts Festival, the Santa Barbara Symphony's Guitar Festival, and for Miami Guitar Festival and the Classical Guitar Societies of St. Louis, Dallas/Ft. Worth, Houston, Tucson and Upstate New York. For the 2011-12 season international highlights included a recital at the Concertgebouw as well as appearances in Taiwan, Poland and Brazil, and the world premiere of a concerto written for them by Brazilian composer Paolo Bellinati, with the Orquestra Sinfônica do Estado de São Paulo led by Giancarlo Guerrero.
A favorite of summer festivals, the Brasil Guitar Duo recently made its debut at the Aspen Festival. Previous summers have included concerts at New York's River to River Festival, the Grand Teton Music Festival, Chautauqua Institution, Cooperstown Chamber Music Festival, and abroad, festivals in Bermuda, the UK, Germany, Poland, and Brazil.
In the recording studio, the Brasil Guitar Duo's debut for the Naxos label features two CDs of the complete works for two guitars by Mario Castelnuovo-Tedesco. Just one of many stellar reviews includes the American Record Guide, which said: "It would be hard to imagine a better performance…This is wonderful music played at the highest interpretive level."
Eager advocates for both traditional and new concerti for two guitars and orchestra, the Duo's recent concerto performances include with the Dallas and Houston Symphony Orchestras, Dayton Philharmonic, Lancaster Symphony (OH) and the Philharmonic Orchestra of the Americas at Columbia University's Miller Theatre.
João Luiz and Douglas Lora met in São Paulo as teenage guitar students and have been performing together for more than twelve years, perfecting a sublime synchronicity and effortless performance style. For more information please visit http://www.samnyc.us/artist.php?id=brasilguitarduo
Program Notes:
The Moldau
Bedřich Smetana
Born in Litomyšl, Bohemia, March 2, 1824; died in Prague, May 12, 1884
In the autumn of 1874 Smetana became totally deaf, suffering constant pain and plagued by an inner rushing noise, which accompanied him the rest of his life. Like other great artists, he managed to turn adversity to triumph through his work. On November 18 he completed Vyšehrad (High castle), the first in a cycle of tone poems celebrating his native Czechoslovakia. Just two days later he began the present work, Vltava (The Moldau), completing it in only three weeks. After completing two more tone poems, the cycle was premiered simply as Vlast (Country), later changed to Má vlast (My country). The work met with such acclaim that Smetana resolved to add two more "movements," which were eventually completed by 1879. The great success of the complete six-part work at its first performance on November 5, 1882, ranks as one of the pinnacles of the composer's career.
Smetana provided explanatory notes for all the poems in 1879. Of The Moldau, which became his most popular orchestral piece, he wrote:
The composition depicts the course of the river, from its beginning where two brooks, one cold, the other warm, join a stream, running through forests and meadows and a lovely countryside where merry feasts are celebrated; water sprites dance in the moonlight; on nearby rocks can be seen the outline of ruined castles, proudly soaring into the sky. Vltava swirls through the St. John Rapids and flows into a broad stream towards Prague. It passes Vyšehrad and disappears majestically into the distance, where it joins the Elbe.
For absolute clarity he provided headings for each of the eight "scenes" in the score. "The Two Sources of the Moldau" begins with the flutes representing the "cold" brook in rippling sixteenth notes and the clarinets adding the "warm" by inverting the sixteenth-note figures. The famous theme of the river itself, which enters quietly in the violins, oboes, and bassoons, returns throughout the piece providing unity. Speculations about the origins of the theme range from a Bohemian folk tune to a song in a Swedish play Smetana had seen twelve years previously, but the theme exhibits as many differences as similarities to these sources and has itself achieved folk-song status.
The "Forest Hunt" is identifiable by its trumpet and horn fanfares, through which the sixteenths continue to ripple; the "Peasant Wedding" is depicted by a polka; and in "Moonlight: Nymph's Dance," fluttering flutes and clarinets, muted strings in high register, and splashes of harp provide a nocturnal atmosphere. A return of the Vltava theme introduces the turbulent "St. John's Rapids" (no longer in existence), which subside and open out into "The Moldau in its Greatest Breadth." The Vltava theme, previously heard in E minor, now enters majestically in E major. As the river flows past "Vyšehrad," Smetana introduces the theme representing the ancient castle's glory from the first symphonic poem. The river continues toward Elbe, but our journey ends with two emphatic final chords.
—©Jane Vial Jaffe
Concerto for Two Guitars
Paulo Bellinati
Born in São Paulo, September 22, 1950
Multi-talented Paulo Bellinati studied at the Conservatório Dramático e Musical of São Paulo and in Switzerland at the Conservatory of Geneva. One of Brazil's foremost guitarists, he has performed solo concerts across the Americas, Europe, and Asia. He also tours with American bassist Steve Swallow, Brazilian singer Mônica Salmaso, Brazilian flutist Antonio Carrasqueira, and top European musicians such as Lucilla Galeazzi and Antonio Placer.
As a composer Bellinati naturally specializes in writing music for guitar, both solo and ensemble. His albums Guitares du Brésil, Serenata, and Lira Brasileira feature many of his works, and he has recorded his arrangements of the complete afro-sambas of Baden Powell and Vinícius de Moraes with vocalist Mônica Salmaso. Also a respected scholar, Bellinati rediscovered, transcribed, and recorded the music of the great Brazilian guitarist-composer Annibal Augusto Sardinha (Garoto). His landmark recording The Guitar Works of Garoto and edition of Garoto's works have received international critical acclaim. He has also starred in several videos, most recently portraying legendary Brazilian composer Antonio Carlos Jobim.
Many guitarists have asked Bellinati to write a large-scale work for them, among them his friends João Luiz and Douglas Lora, the Brasil Guitar Duo, but it was a call in 2011 from Arthur Nestrovski, artistic director of the Orquestra Sinfônica do Estado de São Paulo, that enabled him to realize his dream. The Brasil Guitar Duo premiered his Two-Guitar Concerto in June 2012 with the OSESP led by Giancarlo Guerrero. Maestro Portnoy's performances with the University of South Carolina Symphony Orchestra (April 25) and this evening with the Brevard Philharmonic mark the introduction of this engaging work to North American audiences.
Bellinati typically draws on Brazil's rich musical heritage, adapting traditional forms and styles but infusing them with contemporary techniques and harmonies. In the Two-Guitar Concerto, he explains, "I decided to pay tribute to the country music of São Paulo State, which is traditionally played on the viola caipíra or Brazilian ten-string folk guitar. . . . I did not want my piece to merely reproduce the sounds of that music. I wanted to create a concerto for modern Brazilian instruments that was inspired by those folk traditions.
"The Toada [melody], with its two cadenzas, was originally conceived as the second movement but turned out to be the opening to the concerto. In both cadenzas I treat the two guitars as one instrument. They start the concerto playing the Toada theme, and the second cadenza comes after the first orchestral section. The dialogue between the two soloists sounds like improvisation on the theme and harmony.
"The second movement, Moda de viola, is an adagio inspired by the Brazilian songs known as modas de viola. These are traditionally performed by a duo called dupla caipíra, with the singers harmonizing in parallel thirds or sixths and very often accompanying themselves, one playing guitar and the other viola caipíra. The 'question and answer' structure also appears frequently in música caipíra, and, as this is an instrumental duo, I tried to extend that to the orchestral writing, which is all framed by the countryside atmosphere with its serenades and troubadours.
"The Ponteado [fast finger-picking folk style] was planned as the first movement of my concerto, but as the music grew in density it became evident to me that it would be the final one. In this movement, alternating open and fretted strings in the solo parts create a sort of ostinato [repeating pattern]. The second guitar starts the ponteado and challenges the first one to join in that motion. Both guitars then invite the full orchestra in for the grand finale."
Throughout Bellinati remains sensitive to the inherent balance problems in pitting the guitar—even two of them—against a full symphony orchestra. In the first movement, for example, the orchestra steals in quietly and, when the volume increases, the guitars continue with a repeating pattern. During a later lush, Romantic orchestral passage the guitars are silent altogether. In the middle movement—opened by a contemplative English horn and clarinet dialogue—the eventual entrance of the guitars' chains of thirds receives transparent support of strings only. In the propulsive finale's peak passages for orchestra, again the guitars either participate in the general texture with repeating patterns or rest briefly. A nice textural contrast occurs when the guitars play a syncopated theme in thirds along with most of the orchestra while the violins "sing" a lyrical melody. When the guitars require more sparing accompaniment, the composer features a variety of instrumental combinations, often with percussion providing color. The full forces conclude the Concerto with irresistible momentum and a big splash.
—©Jane Vial Jaffe
España
Emmanuel Chabrier
Born in Ambert, Puy-de-Dome, January 18, 1841; died in Paris, September 13, 1894
Though Chabrier was interested in music at an early age and studied piano privately, he spent a considerable part of his life in other pursuits. Having studied law, he served the Ministry of the Interior for almost twenty years before leaving to devote himself entirely to music. He died at the age of fifty-three, having had only fourteen years as a full-time composer. He had a rare gift for comedy, as his opera Le roi malgré lui shows, and his influence on Satie, Debussy, Ravel, and other French musicians was profound, despite certain adverse criticisms that have been leveled against his music. Ravel held that he was as important to the development of French music as Monet was to French painting. Chabrier may be best remembered for his colorful orchestral rhapsody España.
In 1881, the year after he resigned from the Ministry, Chabrier was invited by Charles Lamoureux, founder of the famous concert series of his name, to serve as secretary and chorus master for his symphonic association Les Nouveaux Concerts. Lamoureux knew and liked Chabrier from the meetings of Wagnerites they both attended and this appointment put Chabrier at the center of musical activities in Paris. It was on Lamoureux's urging that Chabrier made the extended tour of Spain in 1882 that made such a great impact on his life.
Chabrier's letters from that trip are full of colorful descriptions of his impressions of Spain and particularly of the music he encountered there. He became fired with enthusiasm for the work he would write upon his return to Paris:
"Una fantasia extraordinaria, muy española . . . my rhythms, my tunes will arouse the whole audience to a feverish pitch of excitement; everyone will embrace his neighbor madly and you [Lamoureux], too, will be obliged to hug Dancla [leader of the orchestra] in your arms, so voluptuous will be my melodies.
Indeed, Chabrier's prediction came true. España, which he wrote first for piano but then orchestrated at Lamoureux's urging, did rouse the audience to a "feverish pitch of excitement" when Lamoureux conducted it on a Nouveaux Concert on December 4, 1883. Not only was the piece encored on the spot, but it had to be repeated at several concerts during the season. The phenomenal success of España, fittingly dedicated to Lamoureux, elevated Chabrier from the rank of a talented amateur to that of one of France's most influential composers. His evocation of Spain deeply influenced the much more sophisticated Spanish works of Debussy and Ravel.
España rhapsodizes on a series of characteristic dances and folk tunes that Chabrier carefully noted during his Spanish sojourn. A famous folklorist, Louis Bourgault-Ducoudray, praised the way in which Chabrier effectively conveyed the moods, "now lively and impetuous, vociferous and stirring, or again full of languor and voluptuousness, so characteristic of Spanish song." Chabrier included impressions of the jota, a fast dance from the Aragon region in fast triple meter, and malagueña, another fast triple meter dance, which Chabrier had heard with a constant percussive accompaniment shifting between triple and duple subdivisions of the measure. But he also created original themes—one of these, a celebrated phrase for the trombone, found its way, as Poulenc pointed out in 1961, into Stravinsky's Petrushka.
—©Jane Vial Jaffe
Capriccio italien, op. 45
Pyotr Il'yich Tchaikovsky
Born in Kamsko-Votkinsk, Vyatka province, May 7, 1840; died in St. Petersburg, November 9, 1893
Observing the Italian inclination to burst into song at any time, Tchaikovsky was inspired to write a piece based on melodies heard during his stay in Rome in the winter of 1879–80. At the end of January 1880 he wrote to his patroness Mme. Nadezhda von Meck that he wanted "to compose something like the Spanish fantasias of [fellow Russian composer Mikhail] Glinka." Only a week later he reported that he had sketched "an Italian fantasia on folk tunes . . . which I have succeeded in assembling, partly from anthologies, partly out on the streets with my own ears."
Having attended to various commitments in St. Petersburg and Moscow that spring, Tchaikovsky was at last free to spend time at Kamenka in the Ukraine, where in May he orchestrated his Italian fantasia, now titling it Capriccio italien. The ebullient piece follows the kind of free fantasia form that Glinka employed in his second Spanish overture, Recollection of a Night in Madrid, stringing together a series of contrasting sections, in this case based on five Italian tunes. As it happens, parts of Tchaikovsky's piece actually sound more Spanish than Italian.
The opening trumpet fanfare, according to Tchaikovsky's brother Modest, imitates a bugle call that the composer heard daily from his Roman hotel, which neighbored the barracks of the Royal Italian Cuirasseurs. Only one of the other four melodies has been identified—the tune of the final tarantella, known in Italy as "Ciccuzza." Several times Tchaikovsky brings back melodies from previous sections in new guises. The return of the folk melody in thirds over "oom-pah" bass, for example, returns in grandiose brilliance for the full orchestra after the tarantella. The tarantella itself later returns, striking for its hushed expectancy winding up to a boisterous conclusion.
—©Jane Vial Jaffe