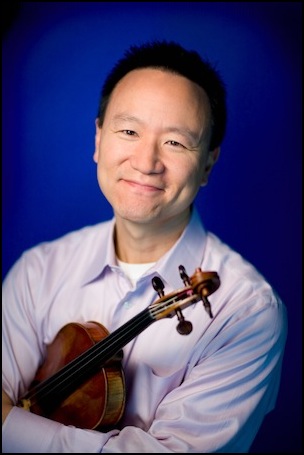 Violinist David Kim was named Concertmaster of The Philadelphia Orchestra in 1999. Born in Carbondale, Illinois in 1963, he started playing the violin at the age of three and began studies with the famed pedagogue Dorothy DeLay at the age of eight. In 1986 he was the only American violinist to win a prize at the International Tchaikovsky Competition in Moscow.
As a highly sought-after pedagogue, Mr. Kim presents masterclasses at schools and institutions such as Juilliard, the New World Symphony in Miami, Princeton, Yale, and universities and colleges across the United States and in Korea and Japan. He also serves as Artist in Residence at Eastern University in suburban Philadelphia.
Mr. Kim was founder and artistic director of the Kingston Chamber Music Festival at the University of Rhode Island, in conjunction with which he founded an annual outreach program that took him to elementary schools, performing and speaking about classical music to well over 12,000 young people in an effort to cultivate future audiences. Presently he continues to devote a portion of his schedule to bringing classical music to children, visiting numerous schools in the Philadelphia area each season.
Mr. Kim appears as soloist with The Philadelphia Orchestra each season as well as with numerous orchestras around the world. Conductors with whom he has performed include Kazuyoshi Akiyama, Myung Whun Chung, Christoph von Dohnanyi, Charles Dutoit, Christoph Eschenbach, Rafael Frubeck de Burgos, Vladimir Jurowski, Peter Oundjian, and Wolfgang Sawallisch. He also appears internationally at festivals such as MasterWorks (USA) and Pacific (Japan), and is a member of the Kumho Art Hall Chamber Music Society in Korea.
The latest additions to Mr. Kim's discography are The Lord Is My Shepherd, a collection of sacred works for violin and piano with pianist and composer Paul S. Jones and Encore, a collection of recital favorites with pianist Gail Niwa.
His instrument is a J.B. Guadagnini from Milan, Italy ca. 1757 on loan from The Philadelphia Orchestra. Mr. Kim resides in a Philadelphia suburb with his wife Jane and daughters Natalie and Maggie. For more information, please visit www.Davidkimviolin.com
Program Notes:
Overture to The Marriage of Figaro, K. 492
Wolfgang Amadè Mozart
Born in Salzburg, January 27, 1756; died in Vienna, December 5, 1791
Even librettist Lorenzo da Ponte, who was prone to dressing up the truth in a self-promoting manner, admitted that writing a Figaro opera was Mozart's idea. The composer had complained to his father in 1783 of having read hundreds of plays, none of which suited him as a comic opera subject. Having aborted several attempts to set existing Italian librettos, he eagerly turned to Beaumarchais's play Le mariage de Figaro, ou La folle journée (The marriage of Figaro, or The crazy day) once it became clear that da Ponte would write him a libretto.
Mozart's desire to set Beaumarchais's script was enhanced by the knowledge that the play had been banned throughout the Hapsburg Empire early in 1785 by Emperor Joseph II on account of its politically subversive elements. What better popular enticement than something banned? Furthermore, Mozart could count on audience familiarity with the characters from Giovanni Paisiello's greatly successful opera Il barbiere di Siviglia (The Barber of Seville), based on the first of the plays in what was to be a trilogy. Mozart's certainty that he could outdo his rival fanned the flame.
Mozart's father wrote to his sister about her brother having to compose the opera at "breakneck speed," which could only have meant that the production was imminent, most likely early December. Yet the opera was not produced until May 1, 1786, presumably because it took some time to convince the authorities that the offensive portions had been altered sufficiently. Machinations of da Ponte's rival Abbé Casti and Mozart's rival Antonio Salieri also seem to have caused delays, as did problems with procuring dancers, and a cast change for the Countess.
The eventual production met with considerable if not phenomenal success; after the third performance the emperor had to limit the encores of solo arias and ban the repetition of all ensemble pieces to keep the performances from lasting all night. Yet Figaro did not achieve its full measure of success until it was produced in Prague the following year, resulting in a commission for a new opera that would become Don Giovanni.
The Marriage of Figaro has often been described as the perfect comic opera because it combines engaging entertainment with exquisite musical construction. As in the play, all of the action takes place in one day, the marriage day of Figaro and Susanna, servants to Count and Countess Almaviva. The main strand of the plot concerns the Count's flirtations with Susanna, in connection with the droit du seigneur (his supposed right as a noble to have his way with her on her first night of marriage) and her clever foiling of his advances. The eventual humiliation of this member of the aristocracy by his "inferiors"—even in its toned-down guise—greatly appealed to the rising middle-class audience. Woven into the web are myriad subplots involving Figaro and the Marcellina (the Count's housekeeper), Dr. Bartolo's desire for revenge on Figaro, the Countess trying to regain her husband's love, and the womanizing young page Cherubino. Mozart's achievement in building his multifaceted musical characterizations into an architectural wonder has kept Figaro in the forefront of the repertoire.
The extremely well-known Overture admirably sets up the intrigues and feverish activity of the wedding day. It begins with the merest rustle, followed quickly by a theme for winds and horns, and suddenly the whole orchestra bursts on the scene with a glorious cap to both opening phrases. The second theme group shows the same quick mood changes, building to a climax with no real development section before the reprise begins with the hushed busy theme of the opening. Mozart had at one time composed a middle lyrical contrasting section before the recapitulation, but ripped the sheet out of the finished score, preferring to keep the moods of humor and gaiety uninterrupted.
—©Jane Vial Jaffe
Symphony No. 2 in D Major, Op. 36
Ludwig van Beethoven
Born in Bonn, baptized on December 17, 1770; died in Vienna, March 26, 1827
Beethoven began his Second Symphony in 1801, composing the bulk of it in 1802. Sketches for the work are found mingled with sketches for many other works, including the three violin sonatas, op. 30, and the three piano sonatas, op. 31, thus illustrating Beethoven's habit of working on three or four pieces simultaneously. The Second Symphony was first performed on April 5, 1803, at the Theater an der Wien on a typically mammoth program that also included his by then familiar First Symphony and two other premieres: the Third Piano Concerto, with himself as soloist, and the oratorio Christus am Oelberge. Several of his other works had also been scheduled but were omitted due to the already lengthy program. A very confident Beethoven had doubled and even tripled some of the ticket prices for the event; he was rewarded by a remarkable artistic and monetary success.
It later became apparent that Beethoven had weathered a great emotional crisis. 1802 was the year he penned the famous "Heiligenstädter Testament." The heartrending document was addressed to his two brothers Carl and Johann (curiously only blank spaces were left wherever Johann's name should have appeared), but not intended to be read until after his death. In it Beethoven revealed the depths of his despair over the progress of his deafness:
What humiliation when someone, standing beside me, heard a flute from afar off while I heard nothing, or when someone heard a shepherd singing, and again I heard nothing! Such experiences have brought me close to despair, and I came near to ending my own life—only my art held me back, as it seemed impossible to leave this world until I have produced everything I feel it has been granted to me to achieve. . . . Joyfully I go to meet Death—should it come before I have had an opportunity of developing all my artistic gifts, then in spite of my hard fate it would still come too soon, and no doubt I would like to postpone its coming—Yet even so I should be content, for would it not free me from a condition of continual suffering?
The Testament wavers between thoughts of imminent death and death in the distant future. This in no way diminishes the sense of Beethoven's anguish, but suggests various ways the document can be interpreted—not only as a farewell or an explanation of his antisocial behavior, but also as the acceptance of misery, which provides new resolution.
The cheerful, untroubled Second Symphony was completed shortly after the October 6 Testament. Its apparent total detachment from the predominantly dark mood of this period in the composer's life might be puzzling, yet he had said that his affliction bothered him least when playing or composing. Indeed, this was a productive period. Upon his return to Vienna, just eight days after the Testament, he was writing to Breitkopf & Härtel about two sets of piano variations, opp. 34 and 35, "worked out in quite a new manner" (emphasis Beethoven's).
The Symphony begins with the largest slow introduction to date. Its broad scope ranges from simple lyricism, to dramatic outbursts, to an imposing D minor unison climax (a foretaste of the Ninth?). The main portion of the movement is tightly organized around the first Allegro theme. The second theme offers contrast of a martial rather than lyrical nature, as if the exuberance and drive of the movement cannot be suppressed even momentarily. The virtuosic writing continues to challenge modern orchestras.
The slow movement, leisurely following sonata form, is surely one of the most luxurious of all time. Its smooth melodies and peaceful lines have often caused it to be lifted and performed separately on programs of popular orchestral works. The last two movements each involve, besides grandeur, different forms of musical wit. In the Scherzo a few well-chosen surprises are contained within a very economical format; in the finale, Beethoven romps with an almost ferocious humor. The giocose main theme is reiterated many times with intervening playful episodes, in rondo fashion. The opening motive provides thematic fragments for tossing about right through to the end of the broad coda.
In view of the work's favorable reception in 1803 and its celebrated status today, it is fascinating to read that it was not universally admired. A Viennese critic in 1804 wrote:
Beethoven's Second Symphony is a crass monster, a hideously writhing wounded dragon, that refuses to expire, and though bleeding in the finale, furiously beats about with its tail erect (quoted in Nicolas Slonimsky, Lexicon of Musical Invective, 1965).
—©Jane Vial Jaffe
Violin Concerto No. 1 in G Minor, Op. 26
Max Bruch
Born in Cologne, January 6, 1838; died in Friedenau, near Berlin, October 2, 1920
Max Bruch is one of those unfortunately underrated composers, considered conservative even in his own time. He is known primarily for his masterful G minor Violin Concerto, the Scottish Fantasy, and Kol nidrei. The remainder of his output—including three operas, three symphonies, other concertos, chamber music, choral compositions, and songs—is perhaps unjustly overlooked.
A child prodigy composer who wrote his first piece when he was nine, Bruch conceived his G minor Violin Concerto when he was nineteen. Formalized several years later, the Concerto was premiered on April 24, 1866. Bruch, known in his own time more as a choral conductor than composer, conducted the premiere with Otto von Königslöw, concertmaster of the Gürzenich Orchestra of Cologne, at a concert of the Music Institute of Koblenz on the Rhine. Following this performance he began revising the work, asking the great violinist Joseph Joachim for help. Bruch dedicated the revised version to the violinist, who first performed the Concerto with the composer conducting in 1868.
The unorthodox form of the first movement caused Bruch to wonder to Joachim whether he ought rather to call this work a fantasy. Bruch acknowledged the introductory nature of the movement by labeling it "Vorspiel" (Prelude), but this also doesn't quite do justice to the novel blend of sonata form with fantasia. The movement opens with brief cadenzas for the soloist framed by orchestral chordal statements. The splendid exposition includes a second theme featuring Bruch's beautiful melodies and lush settings—the "Straussian" cast of this theme might suggest Bruch's influence on the later composer. After a bit of conventional development, the "recapitulation" is also developmental, combining motives from both themes of the exposition in a turbulent tutti (full ensemble) passage. The introductory cadenzas return, and an orchestral bridge leads to the second movement attacca (without pause).
Joachim dissuaded Bruch from calling the Concerto a fantasy saying, "The last two movements are too completely and symmetrically developed. The different sections are brought together in a beautiful relationship, yet—and this is the principal thing—there is sufficient contrast." The Adagio unfolds in sonata form, based on three gorgeous melodies, of which the poignant second serves as a transition between the two "main" themes but receives special prominence. In the development section Bruch fashions a lovely new idea for the violin above this "transition" theme, which he also uses masterfully in the full orchestra to bring about the recapitulation.
The first and second movements are obviously linked; the second and third are more subtly joined—by a harmonic connection. The orchestra begins the Finale in the key of the preceding movement before finding its way to the home key, now in the major mode. Could Brahms have had Bruch's lively main theme in thirds in mind when he wrote the finale of his own Violin Concerto for Joachim ten years later? Bruch's form is again rather free, but he relies on elements of the traditional sonata and rondo form, bringing the whole to a brilliant conclusion.
—©Jane Vial Jaffe