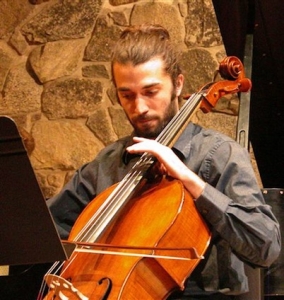 Franklin Keel began taking violin lessons when he was three years old and switched to the cello when he was six, but his interest in string music wasn't really cultivated until he began orchestra classes in middle and high school. After winning Principal Cello in the Asheville Youth Orchestra, he began formal training with cellist and composer Ron Clearfield. By the time he graduated high school, he had played several concerts in the Asheville Symphony Orchestra's cello section, he had appeared as a soloist with the Hendersonville Symphony Orchestra, and he had earned a scholarship to the Eastman School of Music in Rochester, NY.
Upon graduation from Eastman, he returned to Asheville, resuming his post in the Asheville Symphony Orchestra and co-founding the Opal String Quartet, a group that has become active across Western North Carolina both as performers and as educators. He also began work on a Master of Music with a double major in performance and music education at Appalachian State University. His work in education ultimately brought him to Hendersonville, NC, where he first began to teach cello, chamber music, and improvisation at the Hendersonville Symphony Orchestra's Summer String Camp. He also taught a chamber music unit as a volunteer during the fall semester of 2007 at North Henderson High School, and eventually completed his student teaching internship in Henderson County with Margery Kowal and Tiffany King.
Mr. Keel attended the Brevard Music Center for five summers. He was a chamber music fellow for three of those summers and was a finalist in the Jan and Beattie Wood Concerto Competition in 2005. He is now Associate Principal Cello in the Asheville Symphony Orchestra, Principal Cello in the Brevard Philharmonic Orchestra and is an active private teacher in Asheville and Hendersonville. He currently lives in Fairview with his wife and son.