March 12, 2017
Sunday at 3:00
Clifford Leaman, alto sax
Tickets $35
Program
Selections from Guys and Dolls-Loesser/arr. Custer
Moon River-Mancini/arr. Moss
Seventy-Six Trombones from The Music Man-Wilson/arr. Anderson
Escapades from Catch Me If You Can-Williams
Clifford Leaman, alto saxophone
Symphonic Dances from Fiddler on the Roof-Bock/Hearshen
Leroy Anderson Favorites-arr. Anderson
The Man I Love-Gershwin/arr. Gold
Selections from Les Misérables-Schonberg
Selections from The Phantom of the Opera-Lloyd-Webber
Raiders March-Williams
Concert is sponsored by SMITH SYSTEMS INC.
James Fellenbaum, guest conductor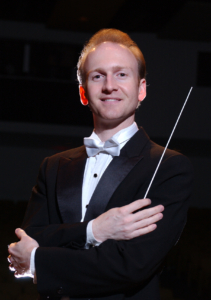 James Fellenbaum enjoys an extraordinarily diverse career as a conductor, having just completed his 10th year as Resident Conductor of the Knoxville Symphony Orchestra. He began as a Guest Conductor in 2006, and then became Resident Conductor in January of 2008. He conducts a variety of concerts for the KSO, and has lead the orchestra in a wide array of repertoire, ranging from the complete Brandenburg Concerti to orchestral music from Wagner's The Ring Cycle. His performances on the Masterworks and Chamber Classics series have garnered such praise as "…a remarkable performance, one that was clean, focused, and razor-sharp in its control, yet passionate and warm in its display." and "one of the most compelling performances of a Beethoven symphony I have yet heard in Knoxville." As a frequent conductor on the Knoxville News-Sentinel Pops series, he has collaborated with such renown artists as Kenny G, Chris Botti, Jim Witter, Ann Hampton Calloway, Steve Lippia, The Indigo Girls, and The Midtown Men, along with tributes to Bob Denver, The Beatles, Elvis, as well as the popular Cirque de la Symphonie, and Oz with Orchestra. As part of the KSO's Education and Community Partnership Program, Maestro Fellenbaum has conducted many performances in the Knoxville region, as well as in communities such as Richlands, VA, Athens, TN, Harrogate, TN, and other locations. He has also conducted several educational concerts, including Side-by-Side concerts with local high school orchestra programs, as well the KSO's annual Young People's Concerts, which are seen by 10,000 elementary students each year.
Since 2010, Maestro Fellenbaum is also the Music Director of the Knoxville Symphony Youth Orchestra Association. He has been a guest Music Director of the Symphony of the Mountains Youth Orchestra, and was previously the Music Director of the Suburban Youth Symphony in Illinois. He has conducted the American Youth Philharmonic, Texas Honors Orchestra, and has led many regional and all-state orchestras, as well as hundreds of workshops and clinics.
Maestro Fellenbaum is the Director of Orchestras at the University of Tennessee, a position he has held since 2003. He oversees and conducts the Orchestra Program, which includes the Symphony Orchestra – the most prominent collegiate ensemble in the state – the Chamber Orchestra, founded in 2004, the Contemporary Music Ensemble, founded in 2006 and dedicated to music written since 1950, and UT Opera Theater, where he oversees orchestral administration, and has conducted past productions such as Don Giovanni, La Traviata, Il Barbiere di Siviglia, The Turn of the Screw, Sweeney Todd, Susannah, Cosi fan tutte, Little Women, and more. Orchestral performances at UT have grown in both size and quality of performances, resulting in invitations to perform in state-wide and regional concerts, and receiving critical acclaim such as "With the arrival of James Fellenbaum…the UT Symphony has developed, at an amazing pace, into an ensemble that rivals the professional orchestras in many communities." Additionally, the Orchestra Program been chosen for two different PBS recording projects, performing as the classical soundtrack for Appalachia: A History of Mountains and People, narrated by Sissy Spacek, and the upcoming The Truth about Trees.
Maestro Fellenbaum has conducted orchestras nationally and internationally, including recent guest conducting engagements with the Springfield Symphony Orchestra (MA), Asheville Symphony Orchestra (NC), the Portland Columbia Symphony Orchestra (OR), Indianapolis Chamber Orchestra, Orange County Symphony (CA), American Youth Philharmonic, the Symphony of the Mountains (TN), the Satu-Mare State Philharmonic and Sinfonia Bucharest Orchestra of Romania, and the Russe Philharmonic and Vidin Philharmonic of Bulgaria. He was invited to the 2006 First International Gennady Rozhdestvensky Conductors Competition, where he was one of 20 conductors chosen to compete out of 112 applicants from 26 countries around the world, and finished as a Finalist – the only American to reach that round.
Maestro Fellenbaum holds a Bachelor of Music degree in violoncello performance from James Madison University in Virginia, and holds a double Masters degree in violoncello performance and orchestral conducting from Northwestern University. His primary conducting teachers were Victor Yampolsky and Cliff Colnot in Chicago, David Zinman and Murry Sidlin at the Aspen Summer Music Festival, and Pinchas Zukerman and Jorma Panula as part of the Conductors Programme with the National Arts Centre Orchestra in Ottawa, Canada.
Clifford Leaman
Professor of saxophone at the University of South Carolina, Clifford Leaman is a recipient of the Master of Music and Doctor of Musical Arts degrees in performance from the University of Michigan. He has previously served on the faculties of Furman University, Eastern Michigan University and the University of Michigan.
As a soloist and clinician, Dr. Leaman has performed and taught throughout the United States, Canada, Italy, Spain and China. An avid supporter of contemporary music, he has commissioned and given the world premiere performances of numerous works including concertos by two Pulitzer Prize-winning composers. He has been featured in both solo and chamber works on a variety of recordings.