April 30, 2017
Sunday at 3:00pm
Stephen Waarts, violin
Tickets $35
Program
Violin Concerto, op. 64, E Minor-Mendelssohn
Symphony No. 9, op. 95, E minor
"From the New World"-Dvorak
Concert is sponsored by Aleta Tisdale
in memory of her parents.
Ken Lam, guest conductor
Ken Lam is Music Director of the Charleston Symphony Orchestra, Associate Professor at Montclair State University in New Jersey and Artistic Director of Hong Kong Voices.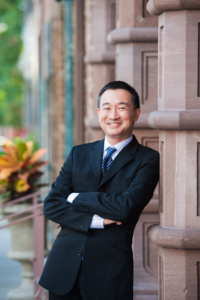 In 2011 Ken won the Memphis Symphony Orchestra International Conducting Competition and was a featured conductor in the League of American Orchestra's 2009 Bruno Walter National Conductors Preview with the Nashville Symphony. He made his US professional debut with the National Symphony Orchestra at the Kennedy Center in June 2008 as one of four conductors selected by Leonard Slatkin. In recent seasons he has led performances with the symphony orchestras of Cincinnati and Cincinnati Pops, Baltimore, Detroit, Memphis, Illinois, and Meridian, as well as the Hong Kong Sinfonietta, Hong Kong Philharmonic, Guiyang Symphony Orchestra and the Taipei Symphony Orchestra.
In opera, he led critically acclaimed productions at Spoleto Festival USA, Lincoln Center Festival, and at the Luminato Festival in Canada and has directed numerous productions of the Janiec Opera Company at Brevard.
Ken Lam studied conducting with Gustav Meier and Markand Thakar at Peabody Conservatory, David Zinman and Murry Sidlin at the American Academy of Conducting at Aspen, and Leonard Slatkin at the National Conducting Institute. Previous conducting positions include Associate Conductor for Education of the Baltimore Symphony Orchestra and Assistant Conductor of Cincinnati Symphony Orchestra. He read economics and law at St. John's College, Cambridge University, and previously spent ten years as an attorney specializing in international finance.
Ken was the recipient of the 2015 Johns Hopkins University Global Achievement Award.
Stephen Waarts
Violinist Stephen Waarts has been praised for playing "with technical command and a totally natural sense of musical drama" (Strings Magazine). He has already garnered worldwide recognition, having captured both audience prizes and jury laureate prize in the Queen Elizabeth competition, First Prize, the Bach Prize and the Composer's Prize at the 2014 Menuhin Competition, First Prize and six additional awards in the 2013 Young Concert Artists International Auditions, Second Prize and the Audience Prize in the 2013 Montreal International Competition; and First Prize and romantic Concerto prize in the 2011 International Louis Spohr Competition for Young Violinists. On his prize winning performances in the recent Queen Elizabeth Competition Ariane Todes in Elbow Music commented "For me there was a clear winner (Waarts) in terms of sheer musicality, imagination, range, sensitivity, expression, humility, maturity and chamber musicianship." And violinist.com – Heather Kurtzbauer: "… most original musical voice among the finalists … A master of color, form and musical character, Waarts mesmerized the audience with cries and whispers… the king of subtlety and nuance…", and Slipped Disk – Norman Lebrecht: "… (Waarts) brought the house down with his final Bartok performance and walked off unusually with both audience prizes, French and Flemish (there's not much the two halves of Belgium can ever agree upon)". Le Soir: "A musical prodigious UFO… unpredictable… " La Libre: "…deeply artistic (of the extraterrestrial kind)… an outsized interpretation…" On previous award winning performances the Montreal Gazette commented: "there's little point trying to wrap words around his talent…" Le Devoir Libre de Penser: "The winner of my heart…when he starts to play, something happens". Violinist.com: "On this night, I finally knew. I heard a few things (in Prokofiev Concerto No. 2) I hadn't heard before…" Austin360.com: "A shockingly mature, nuanced performance of Prokofiev's second violin concerto…" La Scena Musicale: "…technical perfection and great beauty of tone… a presence on stage that commands attention… his playing soars over the orchestra…" Lapresse-Montreal : "He draws in a noble Brahms sound reminiscent Milstein and impresses a continuous thought, from beginning to end…" The UK's Daily Telegraph: "…something special,… not just the mechanical wonder, but a soul." And the Strad magazine: "from the first note… I was hooked, and within a few bars I was moved to tears… such an experience is rare… Although it is possible to analyze it (Waarts' playing)… perhaps it is better not to try… truly poetic and sincere".
Waarts 2014-2015 season began with a performance of Chausson's Concerto for Violin, Piano, and String Quartet at the French Classical Music Festival of Silicon Valley, and performances at the Orford – Canada and Lake George – NY Music Festivals. As Winner of the 2013 Young Concert Artists International Auditions, he made recital debuts this December at the Kennedy Center in Washington DC and Merkin Concert Hall in NYC, to rave reviews, including on the Bartok Solo Sonata: "Mr. Waarts, playing commandingly from memory, balanced passages that evolve in the halting dance idiom of the chaconne with rhapsodic stretches that in this gripping account seemed somberly ruminative. He was comparably inspired in the resolute intricate fugue, the searching slow movement marked Melodia, and the frenetic finale." (The New York Times) And: "…difficult music, … in a range of styles and impeccably rendered — Waarts showed an uncommon, preternatural sense of tonal color and lyrical beauty on the instrument." (The Washington Post). His other performances this season include re-engagement concerts with San Francisco Chamber Orchestra on which it was written: "This was familiar music (Mendelssohn Concerto in E minor); but the execution had a freshness to it. This was a reading that seized attention from the opening notes and held it to the final cadence." (San Francisco Examiner) and a recital at the Louvre-Paris which was filmed to be broadcasted on TV.

Acclaimed from a young age, Waarts has already performed over fourty standard, as well as rarely performed, violin concertos, appearing as soloist with the Cleveland Orchestra, Orchestre Symphonique de Montreal and Austin Symphony, and also with orchestras in Russia, Germany, Norway and Spain as well as with numerous orchestras throughout California, such as the Redwood Symphony, the Prometheus Symphony Orchestra, the Silicon Valley Symphony, the Saratoga Symphony, and the Winchester Orchestra of San Jose. He has been a frequent participant of Summer Music Camps including Verbier Festival in Switzerland, the Perlman Music Program in New York and Florida, Music@Menlo in California and the Summit Music Festival in New York.
A native of the San Francisco Bay Area, Waarts started his music education with Suzuki violin lessons with Krishnabai Lewis and continued it with violin lessons with Jenny Rudin and piano studies with Steve Lightburn. Since April 2005 he studied violin with Li Lin, with whom he is still collaborating, at the San Francisco Conservatory, and since June 2006 he also studied piano with Irina Sharogradski. Concurrently, since 2009, he has studied also with Alexander Barantschik, Concertmaster of San Francisco Symphony, and with Baroque violinist Elizabeth Blumenstock. After graduating from both high school and the San Francisco Conservatory Preparatory at age 14, he currently works with Aaron Rosand at the Curtis Institute of Music in Philadelphia, where he is pursuing a bachelor of music and holds the Frank S. Bayley Annual Fellowship. In addition to his music studies, he is also an accomplished mathematician and has won several national math awards. Find more about Waarts at www.stephenwaarts.com.
[Pronunciation: Surname "Waarts" rhymes with "Hearts"]