Cirque de la Symphonie is an exciting production designed to bring the magic of cirque to the music hall. It is an elegant adaptation of some of the most amazing cirque acts performed on a stage shared with the full symphony orchestra, showcasing many of the best artists in the world. The audience is thrilled and bedazzled by aerial flyers, acrobats, contortionists, dancers, jugglers, balancers, and strongmen. These accomplished veterans include world record holders, gold-medal winners of international competitions, Olympians and some of the most original talent ever seen. Each performance is perfectly choreographed to classical masterpieces, raising cirque artistry to a fine arts level. Adding a stunning visual element to the concert experience, these aerialists and acrobats provide a three-dimensional entertainment extravaganza. Orchestras play with enhanced enthusiasm, while patrons marvel at the jaw-dropping spectacle of aerialists flying overhead and astonishing acrobatic feats. Fusing the power and majesty of the live orchestra with the best of cirque artistry, Cirque de la Symphonie is the only cirque company in the world that performs exclusively with symphony orchestras. Over one hundred orchestras worldwide have featured Cirque de la Symphonie in sold-out venues, adding energy and excitement to the concert experience. Join us on Facebook and explore our website for images, video, schedule, reviews, and more: www.cirquedelasymphonie.com
Alexander Streltsov is a Russian aerial artist who started working with famed cirque choreographer Pavel Brun and producer Valentin Gneushev when he was only twelve, performing on Broadway at the Gershwin Theater. The same year he won the gold medal in the competition among international cirque artists at the prestigious Festival Mondial Du Cirque De L'Avenir in Paris. His combination of natural strength, artistic expression, and grace sets his performance apart from other aerialists. Also known as "Sasha," he has performed for three Russian presidents and the Bolshoi Ballet, numerous symphonies in the US and Europe, and elaborate theater and stage productions worldwide. He has made many television appearances, such as the star-studded ABC-TV special "Christopher Reeve- A Celebration of Hope" and the PBS nationwide broadcast of the Cincinnati Symphony Orchestra's Fourth of July Celebration. He continues to be a favorite at music halls, where he soars out over the audience in a spectacular display of aerial artistry or when he sets his riveting spinning cube act in motion.

Christine Van Loo is a 7-time consecutive National Champion, Female Olympic Athlete of the Year, and Athlete of the Decade in acrobatic gymnastics. She was inducted into the USSA (acro-gymnastics) Hall of Fame and the World Acrobatics Society Gallery of Honor. As a professional aerialist and acrobat she has performed in the 2002 Winter Olympics, at two Grammy Awards (with No Doubt and with Ricky Martin), at the American Music Awards (with Aerosmith), the Miss Universe pageant, and Paul McCartney's European tour. She was a trainer and performer with NBC's Celebrity Circus, and she choreographed the aerials for Britney Spears World Tour and the Stars on Ice US tour. Christine provides spell-binding performances of aerial silks, rope, lira, and trapeze with Cirque de la Symphonie.
The mind-boggling strength and agility of Jarek and Darek's "Duo Design" provides one of the most powerful acts to be included in Cirque de la Symphonie's captivating program. This dynamic and exciting balancing act consists of Jaroslaw Marciniak and Dariusz Wronski, former Polish national hand-balancing champions. They have competed and performed throughout Europe and the United States, winning championships in Evian, France and Sarasota, Florida. Over the past few years, these prolific performers have thrilled audiences at several NBA halftimes, Cirque du Soleil, Circus Circus, Busch Gardens, and the national tour of Cirque Ingenieux. Their Cirque de la Symphonie performances have left audiences stunned and amazed at music halls everywhere.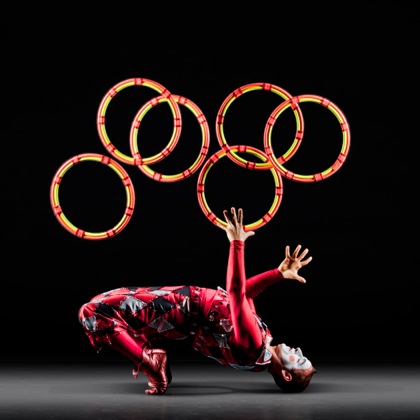 Vladimir Tsarkov  provides a spell-binding performance with combinations of mime and juggling feats. A favorite of the younger members of the audiences, Vladimir's Red Harlequin act features rings, balls, and batons, and he's even been known to teach the maestro a trick or two! He is a veteran of Circus Circus, Cirque Ingenieux, and various Cirque de la Symphonie performances. Vladimir graduated from Russia's prestigious State College of Circus and Theater Arts and won the gold medal at the Cirque de Demain International Festival in France. His performance with the symphony is pure entertainment and guaranteed to please audiences of all ages.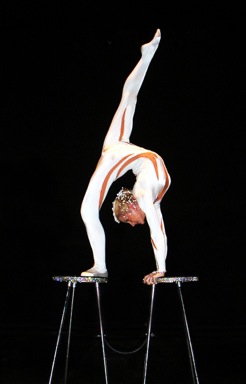 Elena Tsarkova, the "Lady in White," is a graduate of the famed Moscow Circus School and first-place winner of the prestigious National Russian Circus Festival. From her "Master of Sports" in gymnastics, Elena developed into a unique and graceful performer with the Big Apple Circus, Switzerland's Circus Knie, and Germany's Circus Roncalli. Her combination of contortion, balance, and graceful dance moves has made her a major star with Cirque de la Mur in Florida and Circus Circus in Las Vegas. She is also a master quick change artist along with other magical acts involving her partner, Vladimir. Elena's extensive experience with major stage and theater productions provides an all-encompassing professional background that assures a truly elegant performance with the live orchestra.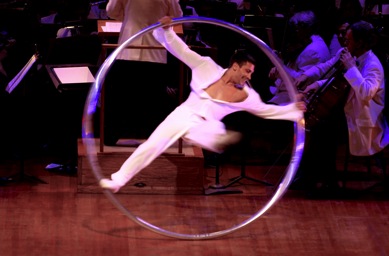 Vitalii Buza began his gymnastic training in the Republic of Moldova and soon competed as an elite gymnast with the Russian national team. At the age of 16, Vitalii joined the Moscow State Circus as a professional acrobat and toured throughout Europe. After a move to the US, he starred in productions at Sea World, Universal Studios and Walt Disney World. He has been featured in numerous TV ads and won a role in the Walt Disney movie "Enchanted." Vitalii also performed at the 2006 Latin Grammy Awards, the 2007 NFL Pro Bowl, 2010 Academy Awards and the 2011 Latin Billboard Awards. He has performed for celebrities such as Donald Trump, Russell Simmons, P-Diddy and Shaquille O'Neal and corporate events for major companies such as Microsoft, Formula1, Mercedes Benz, and Cirque du Soleil. Vitalii excels in multiple cirque acts, such as duo hand-balancing, straps, Cyr wheel, spinning cube, Chinese pole and the Russian bar.