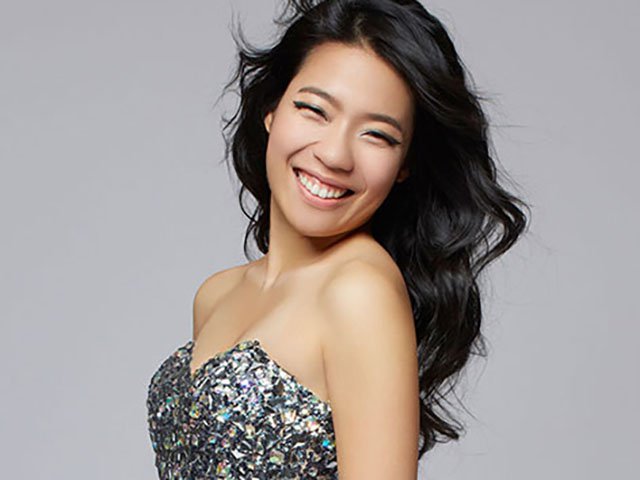 February 26, 2017
Sunday, 3:00pm
Joyce Yang, piano
Tickets $35
Program
Symphony No.1, op.68, C minor-Brahms
The Barber of Seville-Rossini
Rhapsody on a Theme of Paganini-Rachmaninoff
Today's concert is sponsored BRESLER AND WAYNE STEIFLE.
Rhapsody on a Theme Paganini and Symphony No.1 in C minor, op 68,
are sponsored by RONNIE AND PETE PETERMAN.
Charles Jones Evans, conductor

    Now in his twenty-first season as Music Director/Conductor of the Long Bay Symphony, Maestro Charles Jones Evans continues to deliver an exceptional
standard of performances and imaginative programming. He brings a wealth of musical experience, having held conducting positions with numerous professional orchestras and music festivals including the Pine Bluff (AR) Symphony, Eastern Philharmonic (Greensboro, NC), Memphis Symphony and the Mississippi Symphony.  As guest conductor, he has been featured on the podium with organizations such as the Richmond (VA), North Carolina, Virginia and Arkansas Symphonies and the Memphis Ballet, as well as ensembles in Boston, Cleveland, Dallas, Spokane, Santa Barbara and other cities across the U.S.  In Europe, he has made guest appearances with the Oradea and Giurgiu Philharmonic Orchestras of Romania, as well as orchestras in Bucharest.  Maestro Evans' orchestral performances have been broadcast frequently on National Public Radio.
Critics have praised Evans' conducting as "exuberant", describing him as an "elegant, enraptured performer" (Norfolk, VA) and a "solid and polished conductor" (Little Rock, AR).  A champion of twentieth-century music, he has conducted several world premieres in addition to numerous modern concert, dance and operatic works.  His performance of William Schuman's Credendum was praised as "straight ahead, no-nonsense" with "meaty, nicely calculated climaxes and unflagging energy" (Greensboro, NC).  The Memphis Commercial Appeal stated that his rendering of the music of Ives, Schoenberg and others "reaffirmed his status a key interpreter of Modernism."
Maestro Evans has an equally extensive background in the traditional and popular idioms.  In addition to performing with major pops artists such as Judy Collins, Maureen McGovern and Maurice Williams, he has created a wide variety of programs, including highly acclaimed "Rock 'n Roll", "Gospel" and "Beach Music" pops concerts for which he has written many of his own orchestral arrangements.
Evans' conducting training has included a fellowship under eminent American composer/conductor Gunther Schuller at the Festival at Sandpoint, as well as a fellowship at the Aspen Music Festival.  He has also studied under Leonard Slatkin, David Zinman, Boris Goldovsky, and David Effron.  In 1991, he was one of four Americans selected to compete in the Antonio Pedrotti International Conducting Competition in Italy.  In 2000 he was invited to participate in the Wiener Musikseminar at Vienna's Universität für Musik und Darstellende Kunst, where he was awarded second prize in performance.   Evans holds a B.M. degree from the Cleveland Institute of Music, a M.M. from Southern Methodist University, and a Doctor of Musical Arts degree from the Eastman School of Music.
Joyce Yang
Blessed with "poetic and sensitive pianism" (Washington Post) and a "wondrous sense of color" (San Francisco Classical Voice), pianist Joyce Yang captivates audiences with her virtuosity, lyricism, and interpretive sensitivity. As a Van Cliburn International Piano Competition silver medalist and Avery Fisher Career Grant recipient, Yang showcases her colorful musical personality in solo recitals and collaborations with the world's top orchestras and chamber musicians.
Yang came to international attention in 2005 when she won the silver medal at the 12th Van Cliburn International Piano Competition. The youngest contestant at 19 years old, she took home two additional awards: the Steven De Groote Memorial Award for Best Performance of Chamber Music (with the Takàcs Quartet) and the Beverley Taylor Smith Award for Best Performance of a New Work.
Since her spectacular debut, she has blossomed into an "astonishing artist" (Neue Zürcher Zeitung). She has performed as soloist with the New York Philharmonic, Chicago Symphony, Los Angeles Philharmonic, Philadelphia Orchestra, the Baltimore, Detroit, Houston, Milwaukee, San Francisco, Sydney, and Toronto symphony orchestras, Deutsches Symphonie-Orchester Berlin, and the BBC Philharmonic (among many others), working with such distinguished conductors as Edo de Waart, Lorin Maazel, James Conlon, Leonard Slatkin, David Robertson, Bramwell Tovey, Peter Oundjian, and Jaap van Zweden. In recital, Yang has taken the stage at New York's Lincoln Center and Metropolitan Museum; the Kennedy Center in Washington, DC; Chicago's Symphony Hall; and Zurich's Tonhalle.
Yang kicks off the 2015/16 season with a tour of eight summer festivals (Aspen, Bridgehampton, Grand Tetons, La Jolla, Ravinia, Seattle, Southeastern Piano Festival, and Bravo! Vail) before commencing a steady stream of debuts, return engagements, and notable chamber music concerts. She reunites with the New York Philharmonic under Tovey for a five-date engagement of Falla's "Nights in the Gardens of Spain" ― after an appearance last season that the New York Times called "…a sumptuous, powerful, subtle performance … distinguished by a variety of touch and color" ― and makes her New Jersey Symphony debut with Rachmaninoff's Concerto No. 3 in an evening celebrating the orchestra's season finale and conductor Jacques Lacombe's last concert as Music Director. A sought-after interpreter of new music, Yang performs and records the world premiere of Michael Torke's Piano Concerto, created expressly for her and commissioned by the Albany Symphony. Showcasing her vast repertoire with appearances across North America, she plays with the Colorado Springs, Orlando, and Reading Philharmonics, and the Alabama, Anchorage, Corpus Christi, Greenwich, Milwaukee, Nashville, Pasadena, Princeton, Santa Fe, Utah, and Vancouver symphonies, and returns to the Melbourne Symphony to perform Rachmaninoff's Piano Concerto No. 2. In 2016 Avie Records will release a recording with Yang and her frequent duo partner, violinist Augustin Hadelich, featuring repertoire by Schumann, Kurtág, Franck, and Previn.
Yang further demonstrates her diverse range this season with a string of laudable collaborations. She opens the Chamber Music International 30th anniversary season with violinist Sheryl Staples and cellist Carter Brey in Dallas; joins the Alexander String Quartet at San Francisco Performances; appears with the Modigliani Quartet at the Phoenix Chamber Music Society; and reunites with Hadelich and guitarist Pablo Villegas at the La Jolla Music Society and Philharmonic Society of Orange County for a reprise of the trio's widely acclaimed "Tango, Song, and Dance," in which "Yang shone" (Washington Post) at its Kennedy Center premiere.  She plays an innovative program of Albéniz, Debussy, Ginastera, and Rachmaninoff in a series of recitals in New York, Wisconsin, and Virginia.
Highlights of recent seasons include Yang's Royal Flemish Philharmonic and Deutsches Symphonie-Orchester Berlin debuts, UK debut in the Cambridge International Piano Series, Montreal debut with I Musici de Montréal with Jean-Marie Zeitouni, and Pittsburgh Symphony debut playing Schumann's Concerto under music director Manfred Honeck. She concluded a five-year Rachmaninoff cycle with de Waart and the Milwaukee Symphony, to which she brought "an enormous palette of colors, and tremendous emotional depth" (Milwaukee Sentinel Journal); joined the Takács Quartet for Dvorak in Lincoln Center's Great Performers series; and impressed the New York Times with her "vivid and beautiful playing" of Schubert's "Trout" Quintet with members of the Emerson String Quartet at the Mostly Mozart Festival at Lincoln Center. A residency with Musica Viva Australia at the Huntington Estate Music Festival was marked by chamber music performances and solo recitals.
In spring 2014, Yang "demonstrated impressive gifts" (New York Times) with a trio of album releases: her second solo disc for Avie Records, Wild Dreams, on which she plays Schumann, Bartók, Hindemith, Rachmaninoff, and arrangements by Earl Wild; a pairing of the Brahms and Schumann Piano Quintets with the Alexander Quartet; and a recording of Tchaikovsky's Piano Concerto No. 1 with Denmark's Odense Symphony Orchestra that International Record Review called "hugely enjoyable, beautifully shaped … a performance that marks her out as an enormous talent." Of her 2011 debut album for Avie Records, Collage, featuring works by Scarlatti, Liebermann, Debussy, Currier, and Schumann, Gramophone praised her "imaginative programming" and "beautifully atmospheric playing."
Yang made her celebrated New York Philharmonic debut with Maazel at Avery Fisher Hall in November 2006 and performed on the orchestra's tour of Asia, making a triumphant return to her hometown of Seoul, South Korea. Subsequent appearances with the Philharmonic included the opening night of the Leonard Bernstein Festival in September 2008, at the special request of Maazel in his final season as music director. The New York Times pronounced her performance in Bernstein's The Age of Anxiety a "knockout."
Born in 1986 in Seoul, South Korea, Yang received her first piano lesson at the age of four. She quickly took to the instrument, which she received as a birthday present, and over the next few years won several national piano competitions in her native country. By the age of ten, she had entered the School of Music at the Korea National University of Arts, and went on to make a number of concerto and recital appearances in Seoul and Daejeon. In 1997, Yang moved to the United States to begin studies at the pre-college division of the Juilliard School with Dr. Yoheved Kaplinsky. During her first year at Juilliard, Yang won the pre-college division Concerto Competition, resulting in a performance of Haydn's Keyboard Concerto in D with the Juilliard Pre-College Chamber Orchestra. After winning the Philadelphia Orchestra's Greenfield Student Competition, she performed Prokofiev's Third Piano Concerto with that orchestra at just twelve years old. She graduated from Juilliard with special honor as the recipient of the school's 2010 Arthur Rubinstein Prize, and in 2011 she won its 30th Annual William A. Petschek Piano Recital Award.
Yang appears in the film In the Heart of Music, a documentary about the 2005 Van Cliburn International Piano Competition. A Steinway artist, she currently lives in New York City.